I definitely felt a shift as 2018 came to an end.
What resulted was a change in how I wanted to express myself in my artworks. It's a change I didn't see coming. I've stepped into a slower way of creating. I felt a real pull to want to replicate some of my favourite landscapes.
So if you asked me before now how do I describe my art I'd say colourful, intuitive and inspired by the Otways and surrounding areas.
I would typically go out to the studio and clear my mind. Pick up some paints and just start. I'd play around first with colour palettes but when it comes to putting brush to canvas there's no plan. Just a memory bank of images I've collected over the years. My artworks were always a suggestive, dramatic interpretation of no particular landscape. Sometimes they're a fusion of a few.
For me when I paint I didn't want to get bogged down in details or perfection. It's a lot like a meditation. But a fast one at that. I'm prone to perfectionism and it can be exhausting. My fast paced, intuitive style released me of the tight grips of my overwhelm. So very liberating.
For you as the viewer it's exciting to see what the images remind you of. I've heard all sorts of responses such as New Zealand, NT, Ireland and Scotland just to name a few. I love this! That you're able to have a piece of colourful art on your wall that reminds you of a place that evokes happiness and good memories.
I felt the shift start to happen when I started the Happy Place series late last year. As you'll see the images are becoming more refined.
From a place inside I feel as though I was wanting to slow down and plan my artworks. Share particular landscapes that I love. I don't say goodbye to intuition. In fact I don't think I can when I'm making art. The colour palettes are very much a result of going with my gut. I've found flexibility with the sky which is ever changing. The placement of a tree here and there may differ.
So after a break and many photos later I've started the year with the "Beech Forest and Beyond" series. This series has been inspired from the view you'll see as you look south from the town of Beech Forest.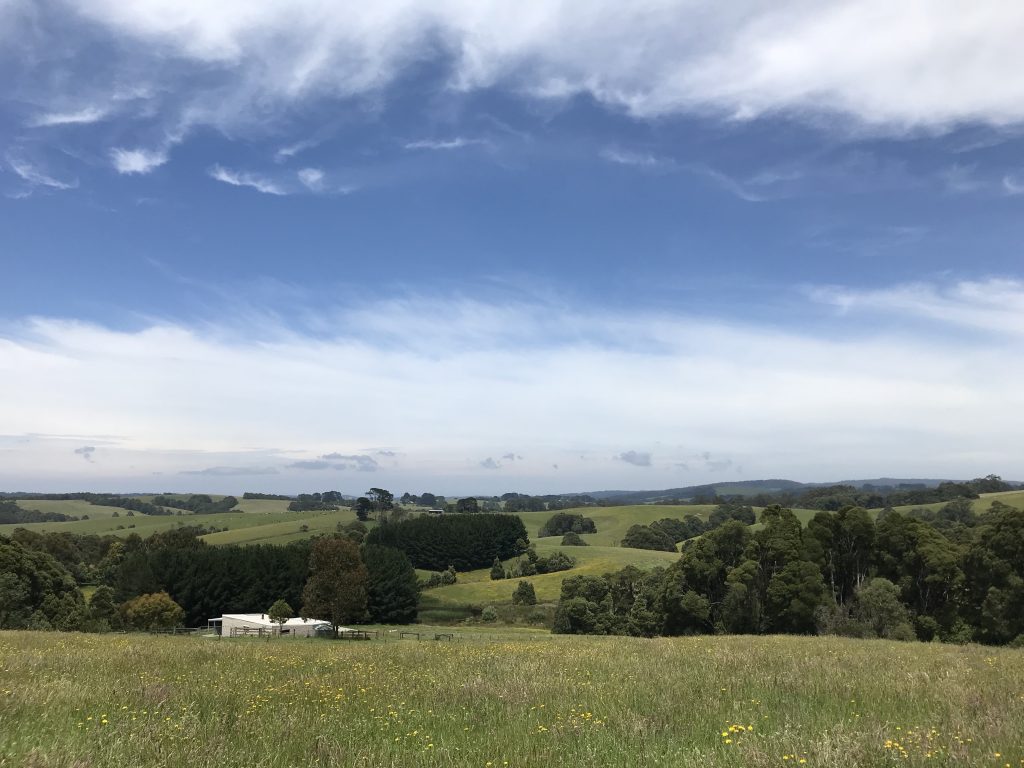 I grew up in Beech Forest and this was a view I saw as I took the bus trip to school each day. It's the same view I wanted to recreate and share with you all in this series. As I painted in this "new" creative way it felt so so right. I had so much fun and I'm wrapped to share this view with you.
I hope you enjoy.
Loz x.